Days 257-263:
Getting shoes on with Papa!
I had a large sewing project to do this day, so I spent
a lot of time noticing the finer details of the fibers and my serger.
A good day for food: dehydrated banana chips in the morning;
GF salmon cakes with garlic dill sauce for dinner.
Gearing up for a play date at the park.
Enjoying an abundance of cherry tomatoes from the garden.
Jaymz baked some GF cookies for me. ♥
---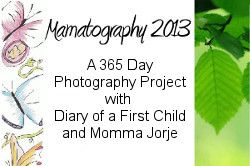 Linked up at Wordless Wednesday at
Hobo Mama
and
Natural Parents Network
(Where you can see photos of Daniel nursing along with this week's theme of Lactivism), at What's New at
Vibrant Wanderings
, and with the other lovely Mamatography project participants at
Diary of a First Child
!