Welcome to the October 2012 Simplicity Parenting Carnival: Holidays
This post was written as part of the monthly Simplicity Parenting Carnival hosted by The Lone Home Ranger and S.A.H.M. i AM. This month we are discussing how we simplify the holiday season. Be sure to read to the end to see a list of the rest of the excellent carnival contributors.
---
I've been stressed by the Fall and Winter holiday season in the past, and a few years ago
I decided I just wasn't going to go through that anymore
. I want to spend the holidays enjoying myself, and I want that for my family, too.
The spirit of this time of year is to enjoy getting to spend time together with loved ones, to celebrate sacred religious holidays (for some), and to welcome the changing of the seasons from harvest to dark, cold Winter. (Right?!) So why then, do we often spend so much time fretting about getting the perfect gifts for everyone on our list, or preparing a pristine meal?
I've adopted a few strategies to guide me in simplifying our holiday task lists so that we can spend more time enjoying each other:
Keep It Simple
I don't enjoy the bustling pace of this time of year, so I try to avoid spending time with people who are stressing about the holidays, and I do less frequent shopping (even groceries) because I want to avoid all that anxious energy.
I am not a big fan of shopping in general, so that was the first thing that had to go. Going out in the holiday crowds to shop needs to be kept to a minimum for me to be able to enjoy this time of year. When we go out to shop during the holiday season, we try to:
Group our errands together into fewer trips to avoid adding to congested traffic and to decrease the number of trips we have to make to purchase items.
Walk, bicycle, or utilize public transit as much as possible when going out shopping to cut back on the extra carbon expenditure of holiday shopping trips.
Be a duck. (quack!) Let the stress and frenzy of everyone around you slide off your back like drops of water. It can all continue to happen around you without you taking it on. Isn't that wonderful?
Shop Local
I want Daniel to grow up valuing people over possessions
, so I strive to keep the things in our house few and higher quality (so they will last a long time). We opt to shop primarily at local small businesses—particularly for any large or specialty gifts—and I try to get all the gifts I want to purchase in a trip or two. It's important to me to patronize small businesses, to
vote with my money
by purchasing local.
Often this means spending more money on an item than I would if I bought it at a "big box" store, but I would rather put my money into our local economy and into small businesses than to give my money to companies that employ child laborers in China (and other business practices I don't support).
Because I have to spend more money, I end up being able to buy a fewer number of things, and
I like that
: it creates a built-in limit on the quantity of
stuff
that I bring into the house, and it encourages me to be more intentional and purposeful about each of my purchases.
Choose Handmade
Last year I decided to primarily gift handmade things during (what we are now lovingly calling) Solsticemas. I sewed kitchen towels and cloth napkins for our family, Daniel received a crayon roll and crocheted hat, and our extended families and friends got homemade jam and crocheted ornaments. I really enjoyed spending time creating a unique gift for each person on my list, and it made me feel good to know that I wasn't just spending money on people; I was giving them the gift of my time and energy.
Apparently, we had already lost
the yellow crayon by noon
on Christmas day last year.
I have new and different crafty ideas for this year's gifts, and I'm looking forward to getting started on them soon! Even if you're not particularly crafty, there are tons of tutorials out there for simple things you can make together with your children to gift to family. If you're not comfortable with even that level of craftiness, there's a lot to be said for sending a simple card with a thoughtful message along with a framed photograph of your family to relatives you don't get to see often.
If you're totally strapped for time and void of creative inspiration, you can always utilize
Etsy
to purchase beautiful, one-of-a-kind handmade gifts from small businesses (near and far!) without leaving the comfort of your home. (Please feel free to
browse my shop
, if you want to buy something from me this holiday season!)
Set Limits
One of the things that has helped me to decrease the number of gifts I buy or make for our immediate family is setting some limits. It's important to our budget and also for my peace of mind: tons of toys and
things
sitting all over the place don't make for a very peaceful home environment.
I decided to follow a guideline for gift-giving (particularly for Daniel and Jaymz), to help me to focus on choosing fewer high-quality items instead of just grabbing every cute little thing that catches my eye:
Something you want
Something you need
Something to wear, and
Something to read.
Last year, I bought Daniel a bunch of fidget toys,
but I made sure they all fit into his stocking.
I love it because it's simple and easy to remember, and there is built-in variety as well as a limit.
And if you can't resist buying cute little things you think your loved ones will like (I know I'm certainly not immune to effective marketing or a well-placed impulse item), try to limit their quantity to fit inside one stocking (or one small box, a special bag, etc.).
Most importantly of all,
I try to focus on what is truly important to me in my life
during this time of year instead of letting myself get swept up in the consumerism and frenzy of stressful energy that often overtakes us during the holidays.
I want my memories of these times to be filled with peace, joy, and love. Don't you?
What do you do to help your family's holiday experience to be simple and low-stress? I'd love to hear your insights, strategies, and suggestions!
---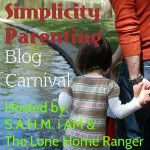 Thanks for reading the Simplicity Parenting Blog Carnival! We hope you'll take time to read these other great contributors' posts:
Thanks to all the fabulous writers and readers for being a part of our simplicity parenting community! Stop by
The Lone Home Ranger
and
S.A.H.M. i AM
to see how to join us for a future carnival.