I'm going to try to catch up on posting photos over the next couple of weeks. We'll see how it goes! In the meantime, here are photo challenge days 243-249:
Pizza night!
A volunteer pansy
(in the front porch steps)
So proud of his raspberry hat
The toilet paper roll is way too tempting!
Salvaging a rough morning with a quick sensory bin
We finally got a new (more effective) sign
installed on our street;
now, hopefully it will be a little safer out front.
First ripening tomatoes of the season!
---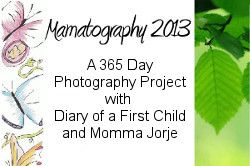 Linked up at Wordless Wednesday at
Hobo Mama
and
Natural Parents Network
, at What's New at
Vibrant Wanderings
, and with the other lovely Mamatography project participants at
Diary of a First Child
!