Here are photo challenge days 193 to 199!
Against the wall
"Blow balloon!" ... "Too hard. ...Papa do it!"
Sunset
Strollers aren't just for human babies
(Reading about typography is hilarious!)
Waiting.
Mixed lettuce in the back yard garden
---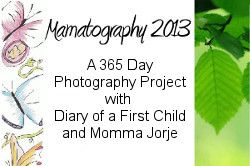 Linked up at Wordless Wednesday at
Hobo Mama
and
Natural Parents Network
, where you'll find a
bonus photo of Daniel exploring nature
. Also linked up with the other lovely Mamatography project participants at
Diary of a First Child
!