Alternate Title:
The Week We Did So Many Activities Our Heads Nearly Exploded From All the Excitement (and Exhaustion)!
It's week twenty-seven, which means I'm over half way through this year-long photography challenge. I'm proud of myself for persevering (and I'm not even fed up with the constant photo taking yet) so I call it a success so far!
Here are photo challenge days 179-185:
Having a chat
Mini caprese salads: one of the many treats we made
for our housewarming and name blending sip-and-see.
Wildflowers by the bike lane
(At Sunday Parkways in our neighborhood!)
After the big Sunday Parkways bike ride, we also got to visit with a friend of mine from high school (Hi, Amy!) who was in town on business from Germany. It was so lovely to be able to spend time together with her. ♥
waiting
Art with Uncle Matthew
Up and down the big slide(!) with new friend Cora
---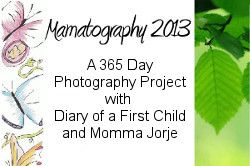 Linked up at Wordless Wednesday at
Hobo Mama
,
Natural Parents Network
,
I Thought I Knew Mama
, and
Farmer's Daughter
, at What's New at
Vibrant Wanderings
, and with the other lovely Mamatography project participants at
Diary of a First Child
!