(Oh my!)
Here are days 158-164 of my year-long photo challenge:
Catching up on some business at the grocery store
We were lucky enough to have visitors last week: Lauren of
Hobo Mama
and her son Alrik arrived early in the week for a short visit. We enjoyed eating yummy food and spending time together, taking lots of photographs, and getting caught up on some gardening.
Gardening with Lauren (Hobo Mama, herself) and
(one of the cutest and sweetest babies on Earth) Alrik!
Out to breakfast!
At Daniel's two year check up: everything's great!
Stats: 25 lbs; 34.5" tall. Advanced in verbal,
fine motor, and gross motor skills.
Later in the week, my dad was here for a few days. He helped with several household projects and we all spent time together. We've been really busy around here lately!
We took a beautiful bike ride together to the blooming rose garden.
Daniel ran around with his VanDad and Uncle Matthew
while Jaymz and I lounged an drank in the scenery.
Down time after the busy week: drawing and playing with rainbows.
---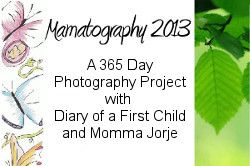 Linked up at Wordless Wednesday at
Hobo Mama
, and
Natural Parents Network
, at What's New at
Vibrant Wanderings
, and with the other lovely Mamatography project participants at
Diary of a First Child
!