Days 137-143:
Morning reflection
Jaymz's pupil is always a little too dilated.
(I know you wanted to know this about him.)
[Happy birthday, Love. =]
Happy Mother's Day bouquet.
Love, Daniel
This game kept Daniel occupied for a good 10(!) minutes:
He ran around the house rubbing his hands on things, saying,
"Wiping ____!" In this case, "Wiping door!"
Yay, vocabulary!
Woke up to a batch of delicious no-bake cookies from Jaymz.
Climb into the light
First rose of the year. ♥
My current giveaway:
Moonrise Lullaby Celtic Harp CD
: Ten winners for will receive a copy of this beautiful, peaceful collection from Patricia Sereno. Enter today! (Ends 6/9; Open Worldwide)
---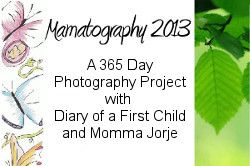 Linked up at Wordless Wednesday at
Hobo Mama
,
Natural Parents Network
,
I Thought I Knew Mama
, and
Farmer's Daughter
, and with the other lovely Mamatography project participants at
Diary of a First Child
!