Jaymz, Daniel, and I have been sick again this week, which is why I'm so late posting these photos. I hope you'll wish us all good health soon!
Days 123-129:
Drawing on the floor of the courthouse
while Jaymz and I do paperwork for our name change.
I spent the afternoon cutting down tall grass
in the back yard...and I got a little messy.
Ear protection for everyone!
(We tilled the back yard this morning.)
At the dentist
Several of my seed starts have outgrown
their tiny greenhouse, like these kale plants.
Daniel helps with the cart at the grocery store!
He brought a lot of joy to strangers this day. =)
Dinner on day one of my recent juice fast.
---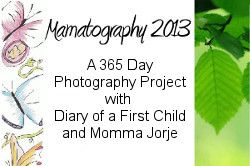 Linked up at Wordless Wednesday at
Hobo Mama
and
Natural Parents Network
, at What's New at
Vibrant Wanderings
, and with the other lovely Mamatography project participants at
Diary of a First Child
!