It's been unseasonably warm here lately, but the summery Spring weather has been really lovely, indeed!
Here are photo challenge days 109-115:
African daisy
Walking by a Portland attraction: Voodoo Doughnuts
This place is a little too much for me, Momma.
A sign of the weather change:
a healthy dose of knee scrapes
Something is very upsetting in here.
(That cup, by the way, is the "juice dog.")
Give D something that vibrates and lights up: it's over.
Happy day: a hoodie, a highlighter, and snacks!
---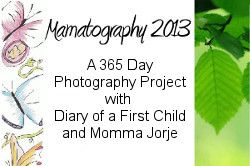 Linked up at Wordless Wednesday at
Hobo Mama
and
Natural Parents Network
, at What's New at
Vibrant Wanderings
, and with the other lovely Mamatography project participants at
Diary of a First Child
!