Better late than never, right? =)
Days 102-108:
"Aaave!"
Moving Day!
The movers lost our reservation, but a few of Jaymz's
friends from work came over on very short notice
to help move all of our boxes. Thanks again, everyone!
Wholesome diner breakfast
"Momma? Eeen!"
Mowing (for the first time)
Sunset from the front yard
One of Daniel's favorite activities: making "foffee!"
---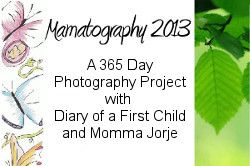 Linked up at Wordless Wednesday at
Hobo Mama
and
Natural Parents Network
, and with the other lovely Mamatography project participants at
Diary of a First Child
!