Days 95-101:
Hi.
orange
Jaymz and I spent most of the day arranging for a woman
to come over and cut a hole in the side of our new house.
Shoes from Nana—they finally fit!
"Oood!"
---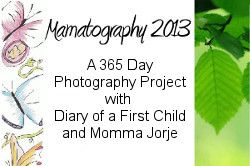 Linked up at Wordless Wednesday at
Hobo Mama
and
Natural Parents Network
, and with the other lovely Mamatography project participants at
Diary of a First Child
!