Days 67-73:
Enjoying a fancy tea date with a friend.
(This yerba mate was quite delicious...
until I dumped it all over myself.)
"I'm doing my best" ~Jaymz
I have no other photos from this day, only this brunch frittata
I made using a bunch of leftovers from the week.
Choosing frames for my new glasses!
Feverish baby
Feeling a little better
(and starting to use the handrail to climb the stairs)
First blooming daffodil in my yard this Spring!
---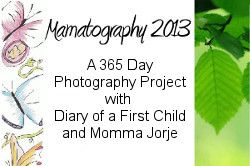 Linked up at Wordless Wednesday at
Hobo Mama
and at
Natural Parents Network
, where you'll see a featured photo of Daniel which goes with today's NPN theme of "special needs." Also linked up with Luschka at
Diary of a First Child
, who gave birth to a beautiful baby girl yesterday! I hope you'll visit her site and congratulate her on her new addition!