Days 60-66:
Baking apple pie after Daniel went to bed
My Daphne is beginning to bloom, and it smells so good!
surprise Springtime snow
A photo of Matthew taking a photo of Jack: so meta.
---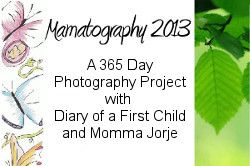 Linked up at Wordless Wednesday at
Hobo Mama
and with the other lovely Mamatography project participants at
Diary of a First Child
! Also at
Natural Parents Network
where there's a photo of Daniel which goes with today's theme of "Kids and Activism." Go check it out!