Days 18-24:
Gluten-free carrot cake muffins with cream cheese frosting.
Happy birthday to my brother, Zha!
Boxes: the greatest fun for the smallest investment!
Having fun on the potty
It snowed!
Cuddles with Daniel and Eddie
(It also rained.)
Daniel's latest self-calming activity:
socks on hands
---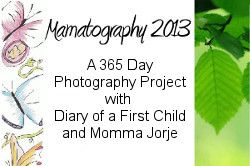 Linked up at Wordless Wednesday at
Hobo Mama
and
Natural Parents Network
, and with the other lovely Mamatography project participants at
Diary of a First Child
!