As I mentioned in my
new year's day post
, I've taken on a photo-a-day challenge this year. I'll be posting these photos in lieu of Wordless Wednesday for the year. I'm not going to make any promises about the quality or subject matter of my photographs, but I
am
committing to taking (at least) one photo each and every day this year. For good measure, I even started the challenge on December 30th!
Without further ado, here are days 1-5:
Daniel & Uncle Zha
I love his new hat! (I made it.)
It's been over a year since I've had a haircut. (Whoa.)
My favorite parts of our holiday tree this year:
the plane and the jack-o'-lantern lights.
Monkey on my back, riding the train into town together.
---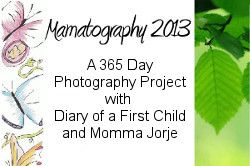 Linked up at Wordless Wednesday at
Hobo Mama
and
Natural Parents Network
, and with the other lovely Mamatography project participants at
Diary of a First Child
!